Why do we need Gardens of Love?
The physical aspects:
Agriculture needs to change.
Conventional agriculture is polluting and poisoning our food as well as our environment. The use of artificial fertilizers burns away organic matter in the soil, thus depleting the soil of nutrients, leaving it less fertile every year.
Many farmers work very hard, but hardly earn enough to make a decent living.
In Organic and Bio-dynamic farming there is much more attention for the soil, but usually not much time to build up a loving relationship with the crops and animals.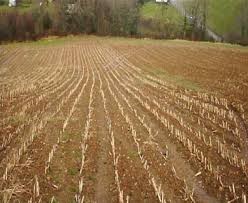 The growing of annual crops means that the soil lays bare, or at the least is opened up every year, to make space for a new crop. When this happens, organic matter gets burnt away. It proofs hard to replenish this with manure and compost from the own farm, because the fields where the animals graze also needs feeding.
A solution to many, if not all, of these problems can be found in the Gardens of Love project:
The growing of perennial crops means the soil is covered all year in most places, and doesn't need to be ripped open. This, in combination with annual leave fall, and the ability of many trees to bring up nutrients from deep in the soil, means organic matter can be build up more effectively, like in a forest.
Once perennials are established, they need less care than annual crops, leaving more time to give the garden the loving attention it needs.
Planting a mix of different plants makes the crops less vulnerable to pests and diseases, because it's harder to find a large amount of the same species to eat or infect. The great variety of plants also provide habitats for more species of animals and insects to live on the land, which in turn leads to a more balanced ecosystem, with more predators for pests, and thus less pests.
Growing such a mix of plants makes harvesting less efficient. That is why it seems more practical to me to have many small farms or gardens, where harvesting our two trees of this or that is quite fun, rather than having large farms, where organizing the people to come to help with the harvest is much harder.
An added bonus of the Gardens of Love project is that there is a lot of space for wildlife, and beauty, to get a place in agriculture.