Recreation areas
Rowing and fishing on the lakes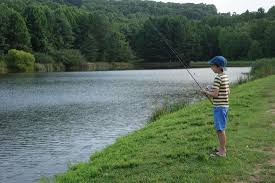 The lakes we will create to supply water to our Garden ponds can also be used for recreation. 
Activities like rowing could be set up as an enterprise, renting out boats; similarly, it would be possible to set up a system for recreational fishing. These would be quite simple projects to set up, requiring little of our time to manage them.
Swimming pool
We can turn one of the lakes into an outdoor pool.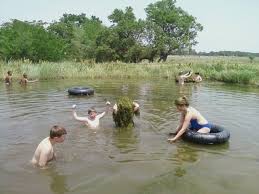 The outdoor pool is in effect a lake, but with a firm floor. There should be a separate area with plants and fish, where the water gets filtered by natural systems. Swimming is not allowed in this area.
There can be some islands you can swim to, with grass and some trees, shallow areas for smaller children and possibly items like a water cannon or slide to make it more exiting for bigger children.
Wildlife trails
An uncomplicated way to give access to the farm is to create some wildlife trails. It would be possible to have guided tours, to do early morning, or dusk walks, to help you see the animals and their tracks. It will be most enjoyed if we create some places to have a little sit down, by a little waterfall, or a beautiful tree, an open space in the forest, with spring flowers. 
Playground
If there is a lot of forest on the land, with large trees, it would be great to create an adventure playground, with rope bridges and ladders, tree houses, swings, zip-wires and slides, poles and different levels, as well as some playhouses on the forest floor. 
Creating a playground in a field is also good. It is important to give our children plenty of places to go play. For visitors, playgrounds make it more attractive to come with small children.